TYKI Martial Arts
The foundation of TYKI Martials Arts
I started learning Karate in 1972. In the 70's Karate was a rigid fight style which had some limitations, for example it concentrated on middle kicks, not explosive/devastating kicks. I tried many systems to find their best elements. For example Tai Kwon-Do had the explosive high kicks, western boxing had the hooks and uppercuts and Muay Thai had the knees. I incorporated those moves and many others into my style.
In those days no karate training was done on pads, it was very much concentrating on technique, which was often counter-productive when in a full contact fight.
A by-product of my changes was massively improved conditioning. Hitting pads is much harder than hitting the air and much higher fitness levels are required for sparring.
Other differences include more practical applications of fighting including defending multiple attacks.

Classes
Our TYKI Karate classes concentrate more on the traditional style of Karate including blocking, kicks, stance, sparring, Kata, competition Kumite and self-defence. This style is taught to Juniors
Our TYKI Martial Art classes incorporate all elements of my style and is taught to all students except the very young.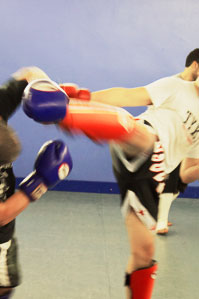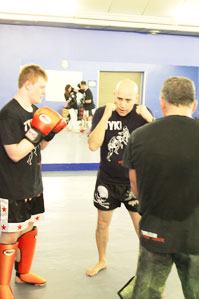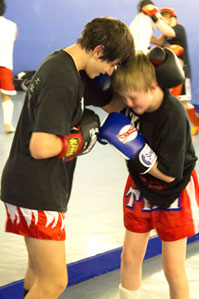 Testimonial
I was 36 years old and had done no exercise for 15 years. I have a desk job, had started to have back problems and was completely out of shape.I remember during my first lesson when asked what my goals where, Tyrone replied "we can do that...". I have now been training with Tyrone 3 times a week for nearly 7 years. The goals I had then have long been surpassed. My wife trains with him and my daughter started Karate at 5 years old, we have seen her grow in confidence over the last 2 years and she loves her Karate lessons.I had been a member of at least 5 gyms, always full of "good intentions" but hated going. Tyrone has an infectious enthusiasm and his ability to keep the lessons interesting has meant I keep coming back.DM