New to Martial Arts
HEALTH & FITNESS
Flexibility
Our classes help develop flexibility and increase range of motion. Flexibility is beneficial for your health and well being as it improves posture, blood flow and relieves muscular soreness. If you consider yourself inflexible Tyki Martial Arts can help!

Strength
Tyki Martial Arts provide a variety of strengthening exercises. These work individual muscle groups giving you balance strength. After a class you may feel muscles you didn't know you had! Due to the variety of exercises we provide, it's easy for our instructors to help you build strength and you can exercise at your own level. An added benefit of extra muscle and tone is faster metabolism and more control over your weight.
Coordination
Learning to kick and punch in coordinating patterns increases coordination and mobility. This helps in other sports, giving you the chance to exercise with more variety.
Cardiovascular
Tyki Martial Arts works all areas of the body. Increased heart and respiration rates during exercise enhances stamina.
CONFIDENCE
You may already have great confidence, we think we can add to it in our own individual way!
As a result of training your confidence will increase by achieving the following goals:
Losing weight
Learning a new skill
Building muscular strength
Raising self esteem and gaining confidence
Looking good for the beach! Toning shaping and gaining flexibility
Tyki Martial Arts offer an engaging, exciting way to exercise in a great atmosphere and gives you all your health and fitness needs from one activity. Exercise also releases endorphins into you body which is the natural hormone found in people which raises your happiness levels!
PROTECTION
We teach self defence in all our classes. Knowledge of self defence helps to give you confidence which is one of the best forms of self defence around! Having confidence prevents you looking or behaving (even subconsciously) like a victim, so you are therefore more likely to avoid incidents where you would have to use physical self defence.
Prevention and avoidance are key elements to self protection. Being aware of your environment and taking simple preventative measures is essential.
Attackers range from opportunists, intoxicated people, pre emptive types and many more. It's important to be aware of the the various types of attacker and the steps you can take to protect you and your family.
Tyki martial arts teach effective techniques that have been tested in real life situations. Our primary aim is avoidance - using your fitness and calmness in a dangerous situation to escape without physical intervention, but if forced to use physical methods to escape danger.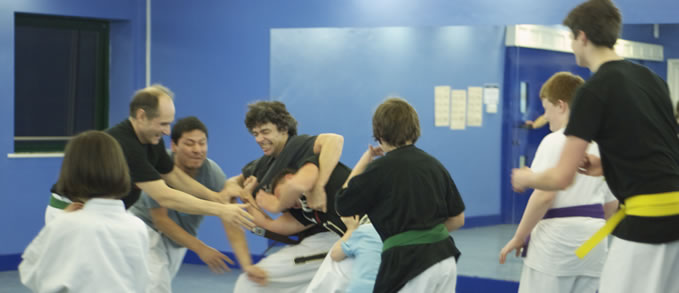 STUCTURED LEARNING
Martial Arts has been a popular physical activity in the UK for decades. Tyki class planning from our instructors allows our students to experience increased skill as well as personal development.
Grading
Within a few weeks you will notice a change in your skill, physiology, fitness and well being. Continued training will lead to grading. Although optional, most students chose to take part in grading.
Why grade?
Grading means that you know you have a goal to work towards and encourages you to make your class to ensure you achieve it. Grades show your progression and development which is important to measure how far you have come in achieving your personal goals.
What if I don't pass my grading?
Tyki classes are structured so you learn and retain your skill. New techniques are introduced individually and broken down into easy steps to follow. We pair this with repetition of each new technique to ensure you will learn thoroughly and be ready to take your grading. We do not put you forward for your grading unless we feel you are ready, so if you put in the effort of coming to your classes it is unlikely you will fail a grading.
Summary
Master Tyrone Wasniewski trains every day and seeks to improve himself and his system, which is based on real street self defense and full contact techniques. Tyki Martial Arts offers you the chance to discover the skill and potential inside yourself.
We enjoy instructing and passing on our skills to our students and look forward to seeing you soon!